Are you tired of delivering lackluster presentations that fail to engage your audience? Remember, the quality of your presentation can significantly influence your reputation and impact. A compelling presentation not only captures your audience's attention but also resonates and leaves a lasting impression.
Don't exhaust yourself in the pursuit of crafting the perfect presentation. It is where a professional presentation designer can be your game-changer. Leveraging their wealth of experience and unique skills, they understand the art of audience engagement and the power of effective communication.

A presentation designer possesses the unique knowledge to accelerate your business growth through thoughtfully designed presentations. We don't just design slides; we craft stories that stick. Whether pitching to investors, showcasing a new product, or training your team, our services can transform your ideas into persuasive visual narratives that captivate, convince, and convert.
So why not choose a skilled presentation designer for all your presentation requirements?
Why Choose an Expert Presentation Designer?
Choosing a professional presentation designer can help your business. It can improve your business, reach new heights, and stand out from the crowd. 
Create a Strong Visual Story
Everyone knows creating a strong visual telling story is very important for getting your audience's attention. If a presentation, at first sight, shows the complete project story, the audience like it more.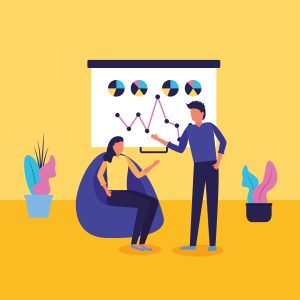 Expert and skilled presentation designers know very well how to make a presentation that tells a complete story and can catch more attention of the audience. They make a presentation of a story that lies around your business.
An expert designer knows what color to use to make it more engaging and other elements like layout, typography, imagery, etc. They also know and are experienced with the tools used in making an excellent presentation and also know about the unique software used in creating it.
Professional Designs
An expert designer gives a professional look to the presentation according to your business. They do not design random presentations that do not engage more audiences according to your profession. They give it a completely professional look fully according to your business.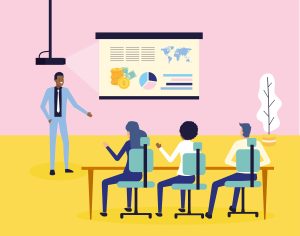 A presentation with a professional look always grabs a large audience and builds trust between them so that the audience thinks that they are dealing with good hands.
Express Complicated Data Effectively
We often use complex and complicated information in our presentations that can be hard for the audience to understand.
It is the main skill of an expert presentation designer; he knows how to make complex information and data easy and simple to understand for the audience and grab their attention.
They divide or cut all the complex data into short and easy forms that a person can easily understand. They describe only the essential and the main topic of the presentation. They remove all the unnecessary information from the presentation and 
make it informal and clear.
I am sure you understand how hiring a good, skilled, expert presentation designer is important for boosting your business and increasing audience attention. 
Take Your Presentations to The Next Level!
No need to fret. I'm here to make your presentation dreams come true! As a seasoned and skilled presentation designer, I am tuned into your core requirements and am dedicated to delving into the finer details of your project.
With years of experience, I've crafted countless standout presentations for various industries and audiences. Whether you aim to impress potential clients, captivate team members, or persuade investors, I have the know-how to design a compelling presentation that truly speaks to your audience.
Attention to detail is my mantra. I meticulously examine every aspect of your presentation to ensure that not even the tiniest element is overlooked. Sometimes, these small details can make the biggest impression on your audience. From layout and typography to imagery and color schemes, I manage all the elements to give your presentation a polished, professional look tailored to your needs.
And the best part? My services won't burn a hole in your pocket. I pride myself on delivering high-quality presentations at affordable and competitive prices. With me, you're sure to get exceptional value for your money.
What Will You Get?
I provide various services using innovative software and the latest design trends. Here's a peek into the various services that are at your disposal:
Branding Presentation
Branding presentation is my strong arm. I create a presentation that effectively showcases a brand. A complete storytelling presentation is very important to make an emotional relationship with your audience according to your brand to attract more traffic.
A branding presentation should show what makes this brand different from its competitors, like its mission, personality and value. All of these things you can find in one of my designed presentations.
Competitive Analysis Presentation
A good Competitive analysis presentation is necessary for a company to understand its competitive scenery, power and weakness and develop a strategy to improve itself in the market. But the data can be overwhelmingly complex.
However, it's nothing to worry about if you've me on your side. I create the best comparison presentation where I compare your and competitors' weak and strong points and make it easy to determine whether your company needs to improve.
Benchmarking and competitive strategies are also important in that presentation. Those can provide a person with good experience in creating it, and I'm well skilled in it, making it professional-looking and meeting all your needs.
Conference presentation
I design presentations for conferences, always focusing on what the audience wants and needs. I make sure to understand their interests and cater to them. My presentations have a clear layout, ensuring the main content and information align with the key message.
I use striking and engaging visuals to make the presentations unforgettable and easy to grasp.
Additional Services
In addition to the above, I offer a wide range of presentation creation services, each designed with expertise and aimed to exceed your expectations and requirements.
I've covered you, from crafting professional presentations, training modules, and workshop content to designing engaging webinars, product launch showcases, and compelling storytelling presentations.
Beyond designing, I offer guidance and coaching to enhance your presentation skills. So why not seize the opportunity to elevate your presentations for your clients, audience, team members, and more? Let's take your presentations to unparalleled heights together!
Don't hesitate to contact me if you have any queries or doubts or want to learn more about me. Enjoy your journey with impactful presentations